Thanks to all who made the St. Matthew's Annual Christmas Bazaar a success on
Saturday Dec 8th, 2018
St. Matthew's, which is located on 300 S Main Street in Pennington, is very excited to get the Holiday Season going with our annual Christmas Bazaar. We have amazing arts and crafts as well as homemade food items, and Santa at 1 p.m.! Stop by for lunch in our "Just Foods Cafe" and "A Taste of Norway". Homemade delicious lunch served in both locations. We are now accepting credit cards.
For questions about the Bazaar, contact Nora Sirbaugh: sirbaugh.nora@gmail.com
KNITTING & CROCHET TABLE

The Knitting & Crochet Table at the St. Matthews Christmas Bazaar needs your help!

If you can knit or crochet an item for us it would be great, we would love to have your donations. You can reach out to Carol Flanders, (609-882-4915) Carol Luling, (609-737-3833) or Barbara Von Oehsen (609-737-0002) for more information. Thank you.
Highlights from our 2017 Christmas bazaar
held on December 9th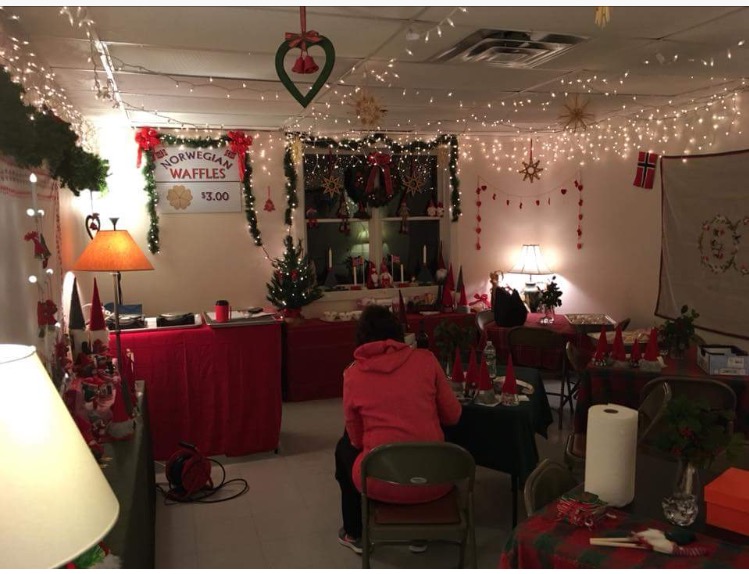 All foods are made from organic ingredients and come from local farms and vendors, where possible. All meat products are from humanely-raised resources.
Chili
Sweet Potato, Carrot, Apple and Red Lentil Soup, Cornbread
Hot dogs with home-made rolls
St Matthew's sugar cookies
Complimentary coffee


Bazaar Cooking Nights
We're making yummy vegetable soup from Nora's special recipe! She worked hard gathering all the ingredients from local farms!
Past Christmas Bazaars
Look at the fun we've all had at past Christmas Bazaars! Shoppers and volunteers came together to support St. Matthew's many wonderful community outreach efforts!